COVID-19 Holiday Consumer Sentiment Pulse Survey

Going into the 4th of July weekend and on the heels of another better-than-expected jobs report, consumer sentiment rebounded, despite the sharp increase in new COVID-19 cases.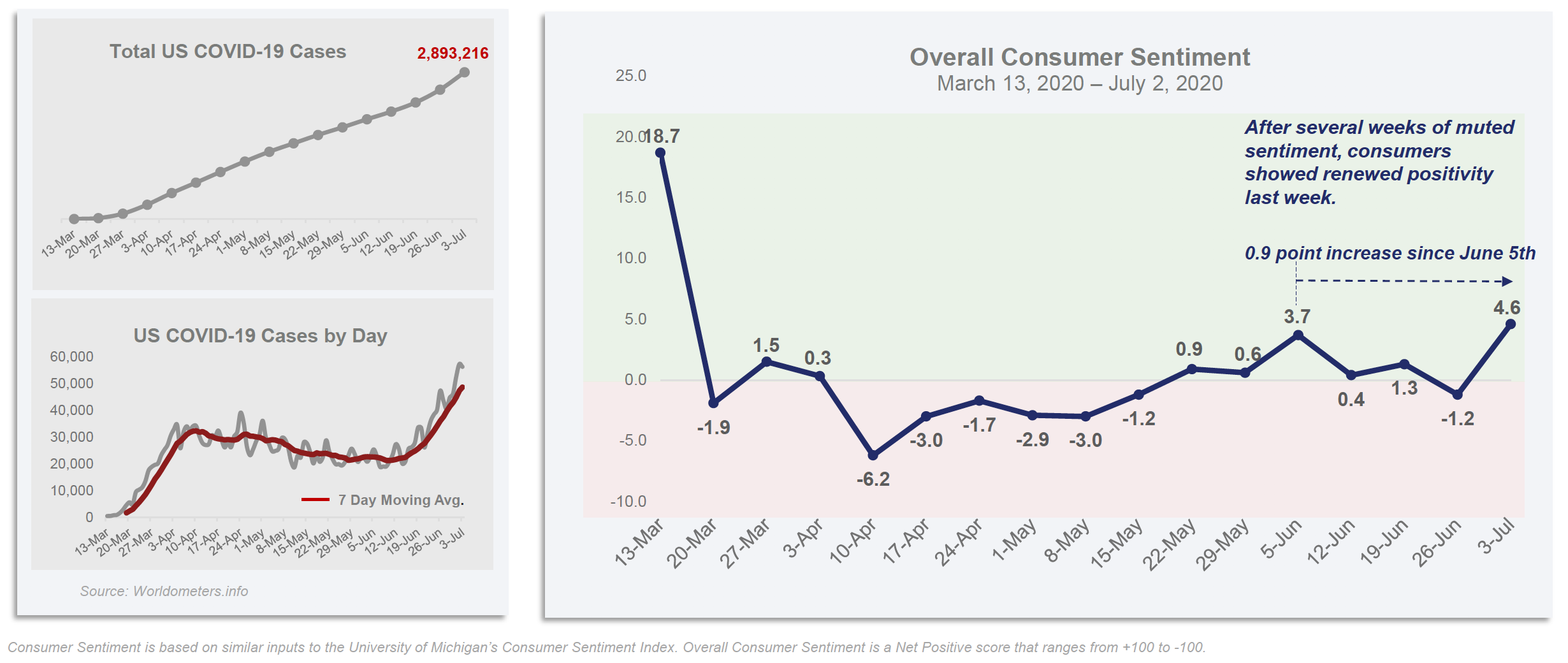 In an effort to deliver current and contextual insights during this time of societal change disruption, valued BARE partner Phoenix Marketing is fielding this weekly study among U.S. consumers to gauge their sentiments, activity shifts, and concerns related to the COVID-19 pandemic.
This tracking study will prove useful to our clients, business partners, fellow market researchers, and other interested constituents across the country as we all endeavor to make informed business decisions in the context of the shifting landscape before us.
Consumer Sentiment
Both consumers' assessment of the current financial situation as well as their views on the future economic outlook increased in parallel this week, maintaining the gap between them.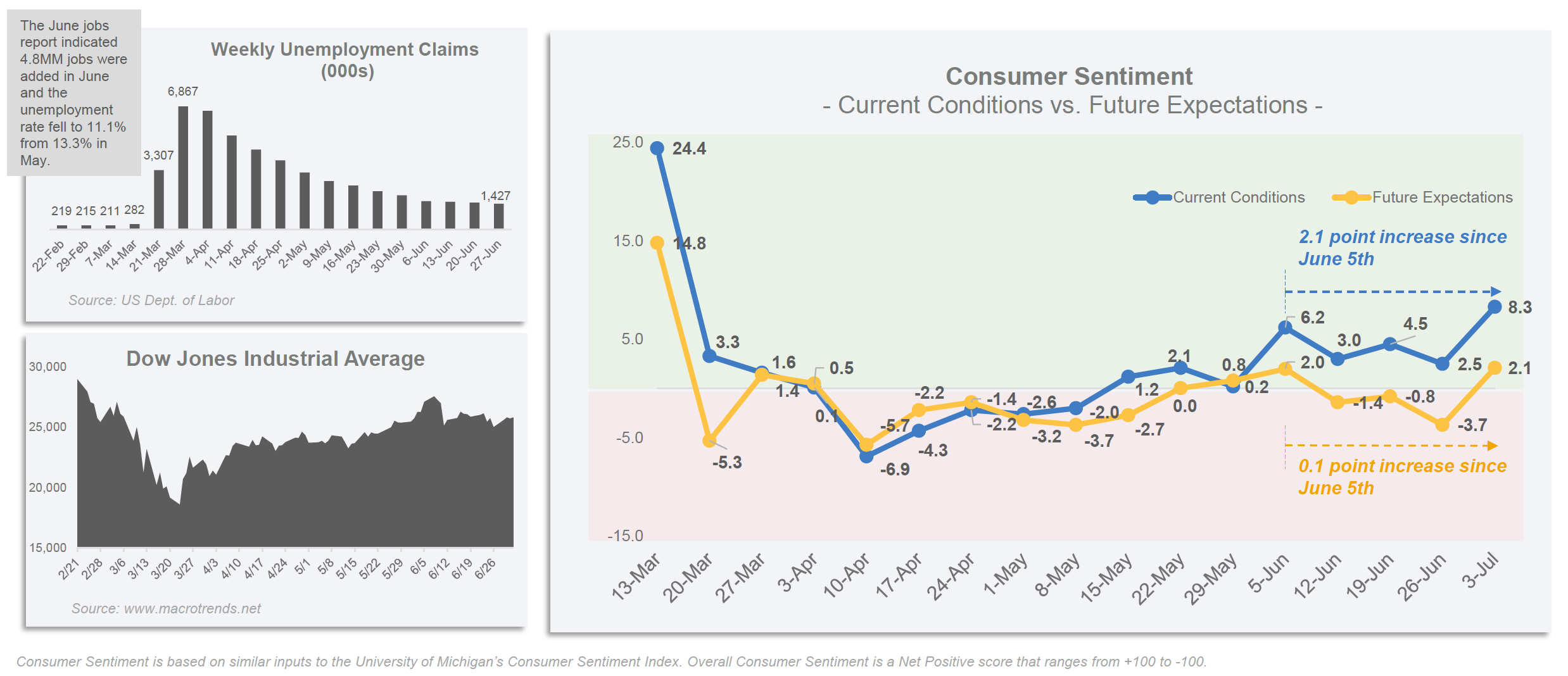 Most consumers have shown an improvement in sentiment in the past 2 weeks, with the exception of those ages 45-54. Younger consumers remain highly positive despite weeks of social unrest and increasing cases of COVID-19, particularly among their age cohort.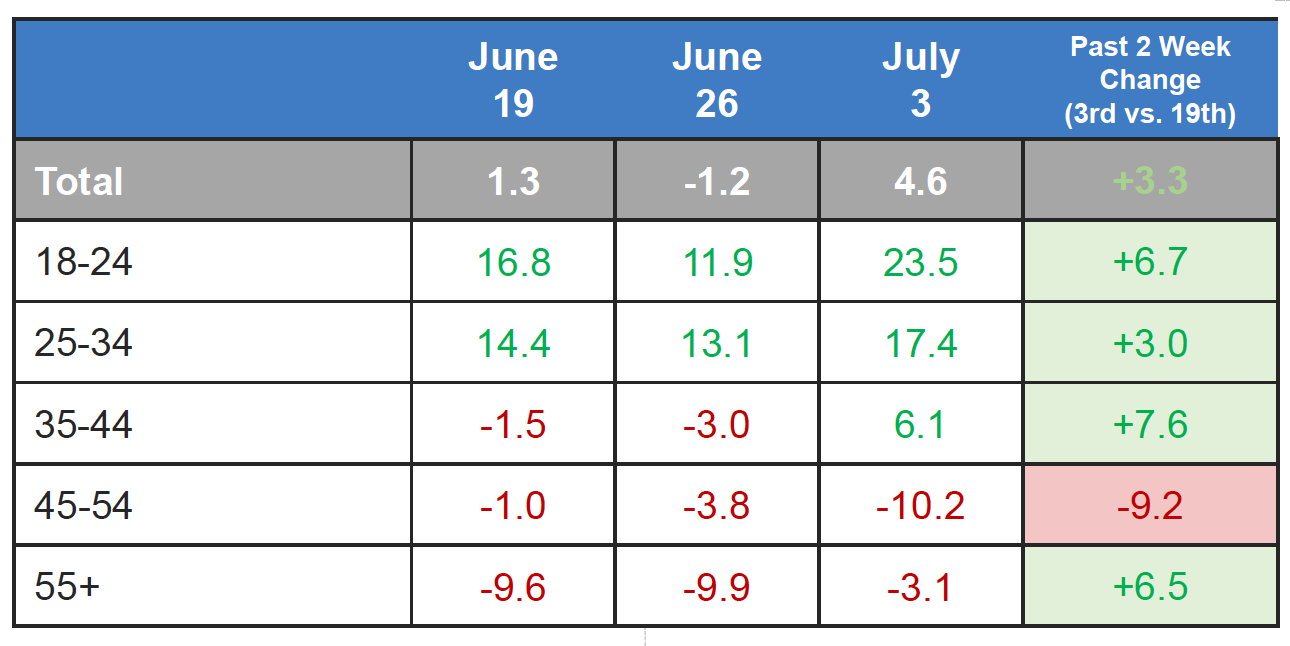 With summer here and many states having reopened bars, beaches, and other leisure activities, young consumers are showing strong positivity as for them summer has not been cancelled.
The positive jobs report and the stock market ending June in the positive may help explain improvements in sentiment among consumers ages 35-44 and 55+.
Although older consumers (55+) have shown continual negativity throughout the pandemic, positive news about the economy as June came to a close may leave this group feeling more positive about their financial future.
Interestingly, consumers ages 45-54 have shown a notable decline in sentiment over the past 2 weeks.A recent report from the BBB indicated that employment scams were on the rise, affecting those ages 45-54 with one of the greatest median dollar losses associated with those scams.
Consumers ages 45-54 are highly concerned about the state of the US economy in the short-term; at pre-retirement age, the next 12 months may lay irreparable damage to their retirement plans.
Current Conditions
There was a definitive uptick in how consumers viewed their own personal financial situation in the past week, which may reflect a growing feeling of financial security as more jobs are added back to the economy.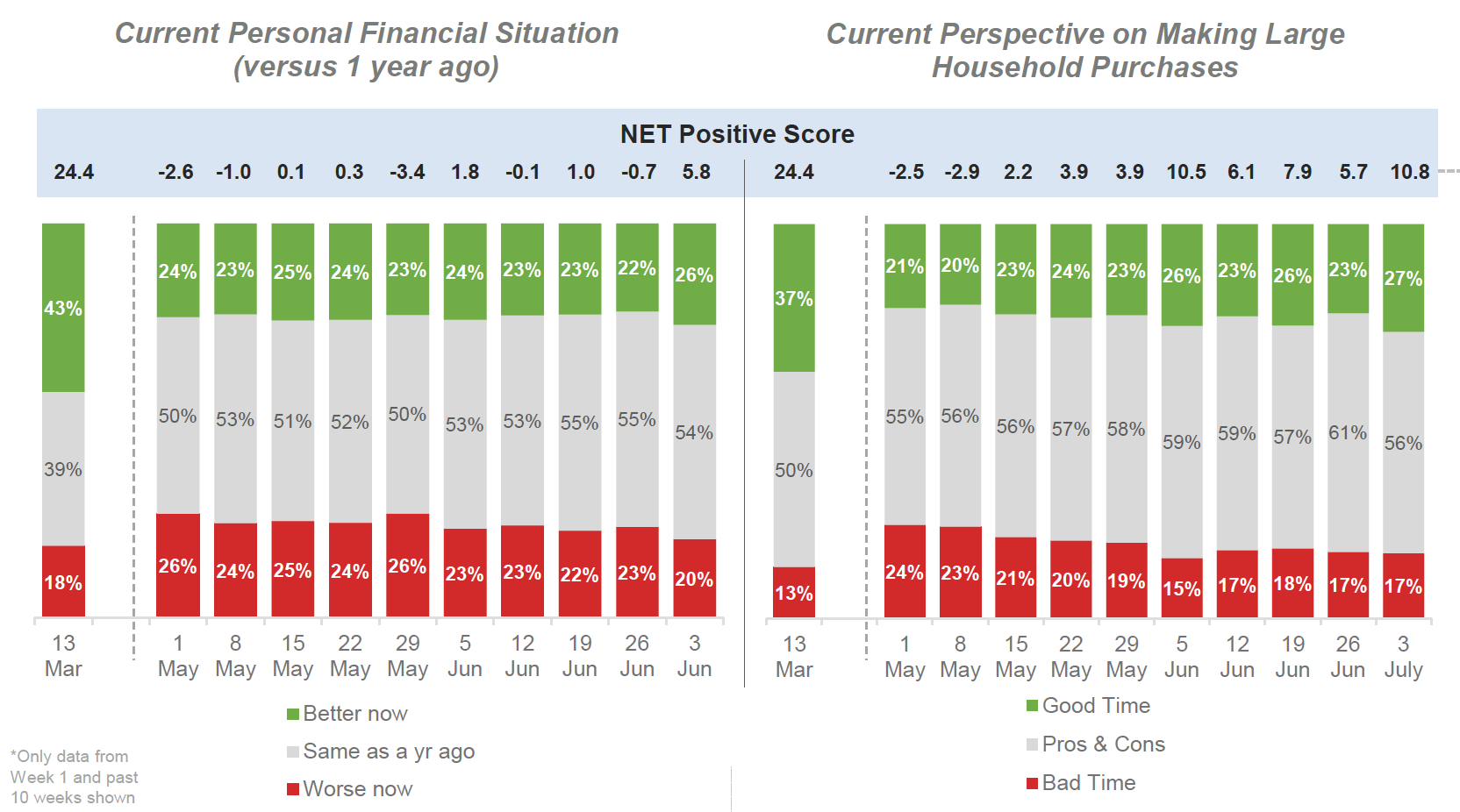 The June jobs report marked the second month in a row that non-farm jobs exceeded expectations with the addition of 4.8MM jobs (vs. 3MM expected) which lowered the unemployment rate to 11.1% (vs. the 12.5% projected).
This report, in conjunction with its predecessor, has provided evidence of a faster than expected economic recovery now that states have reopened.
This positivity carried over to how consumers feel about making large household purchases –those feeling it's a good time reached its highest point since March this past week.
The only potential dark cloud in this rosy picture is the surge in new COVID-19 cases, which also reached a new (more ominous) high last week: 57,000 new cases in a single day, the highest to date in the US.
Future Expectations
All three future oriented indicators experienced notable increases in the past week. While future expectations are still tempered compared to pre-pandemic levels, this week's increases demonstrate consumers' slowly improving confidence.

Everyday Behaviors
Leading into the July 4th weekend, consumers reported some of the strongest intent to eat out and travel (both plane and hotel) since March.
Work from home ticked back up after reaching a low in early/mid June, which could reflect a combination of more flexible summer hours as well as COVID-19 related arrangements. Wearing a face mask in public also saw a notable rise this past week after weeks of relative stasis.

Read more: fill out the form below to access the full pulse study, including insights on
consumer finance changes, consumer concerns, and top-of-mind brands!
—
We're Here to Support… Whatever Phase You're In.
There's uncertainty as to when the virus pandemic will subside — and if it will come back again. Under normal conditions, CX leaders need to secure and keep resources, but in the coming months, their ability to use customer insight to inform urgent decisions and support shifts in priorities will continue to rise in necessity.
Through innovative research solutions, business leaders are in a better position than others to understand how customer needs and expectations are swiftly changing. For further assistance in supporting you and your customers during COVID-19, contact the customer experience research experts at BARE International here today.
https://www.bareinternational.com/wp-content/uploads/2020/07/AdobeStock_343913129-scaled.jpeg
1707
2560
Kristen
https://www.bareinternational.com/wp-content/uploads/2022/07/BARE-Logo-WP-2022.png
Kristen
2020-07-17 13:52:00
2020-07-17 13:52:00
COVID-19 Holiday Consumer Sentiment Pulse Survey