BARE Shares – 32 Customer Experience Statistics You Need to Know

'It seems that it was only yesterday that every business claimed the key to winning customers was in the quality of product or service they deliver. But, things have changed… In fact, all we hear these days is how important providing the best customer experience is.' BARE shares an article by Toma Kulbytė for Super Office on 32 Customer Experience Statistics You Need to Know for 2018.
'When Econsultancy conducted their survey for Digital Marketing Trends, they asked companies to state the single most exciting opportunity for 2018. The results? Customer experience (or CX) came in first (beating content marketing and mobile marketing!).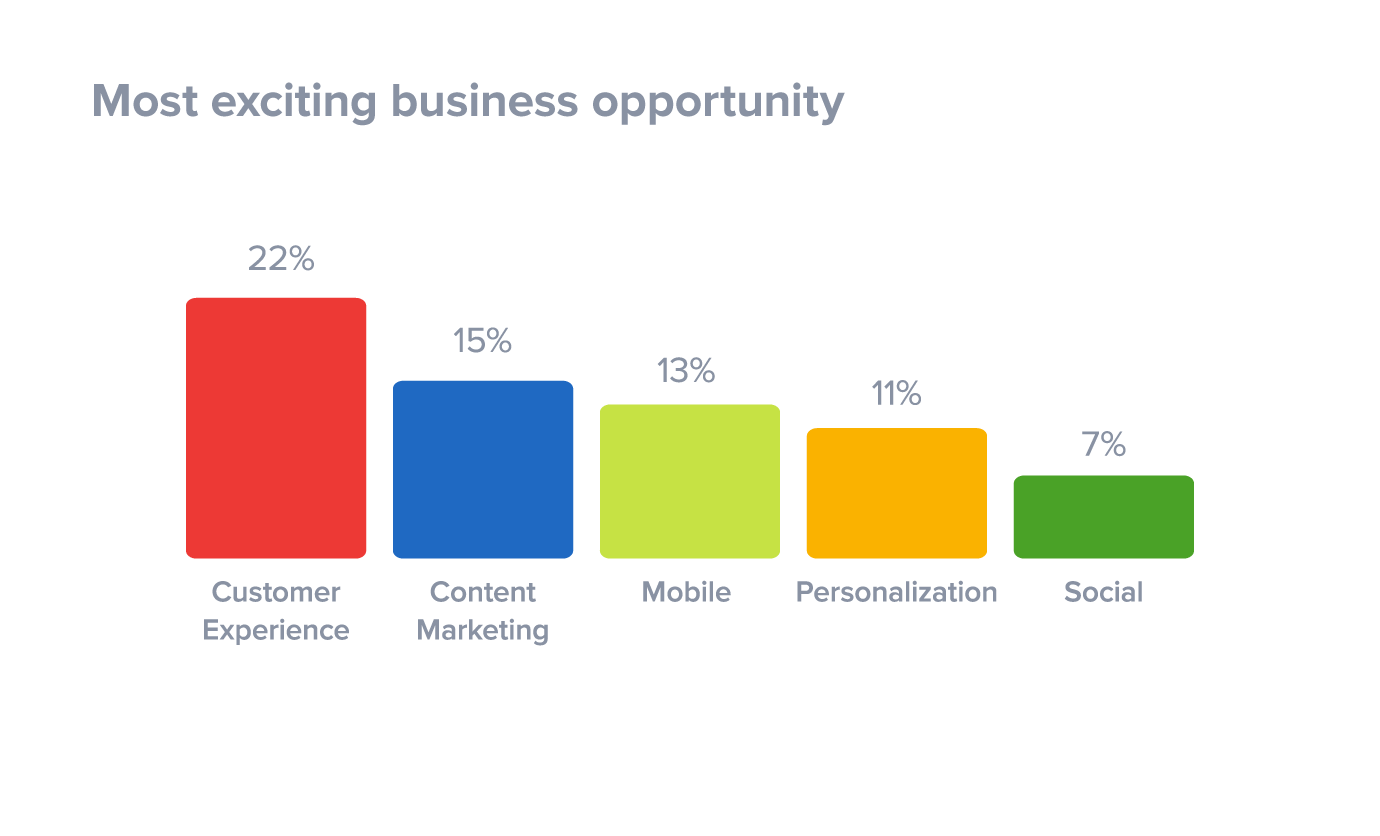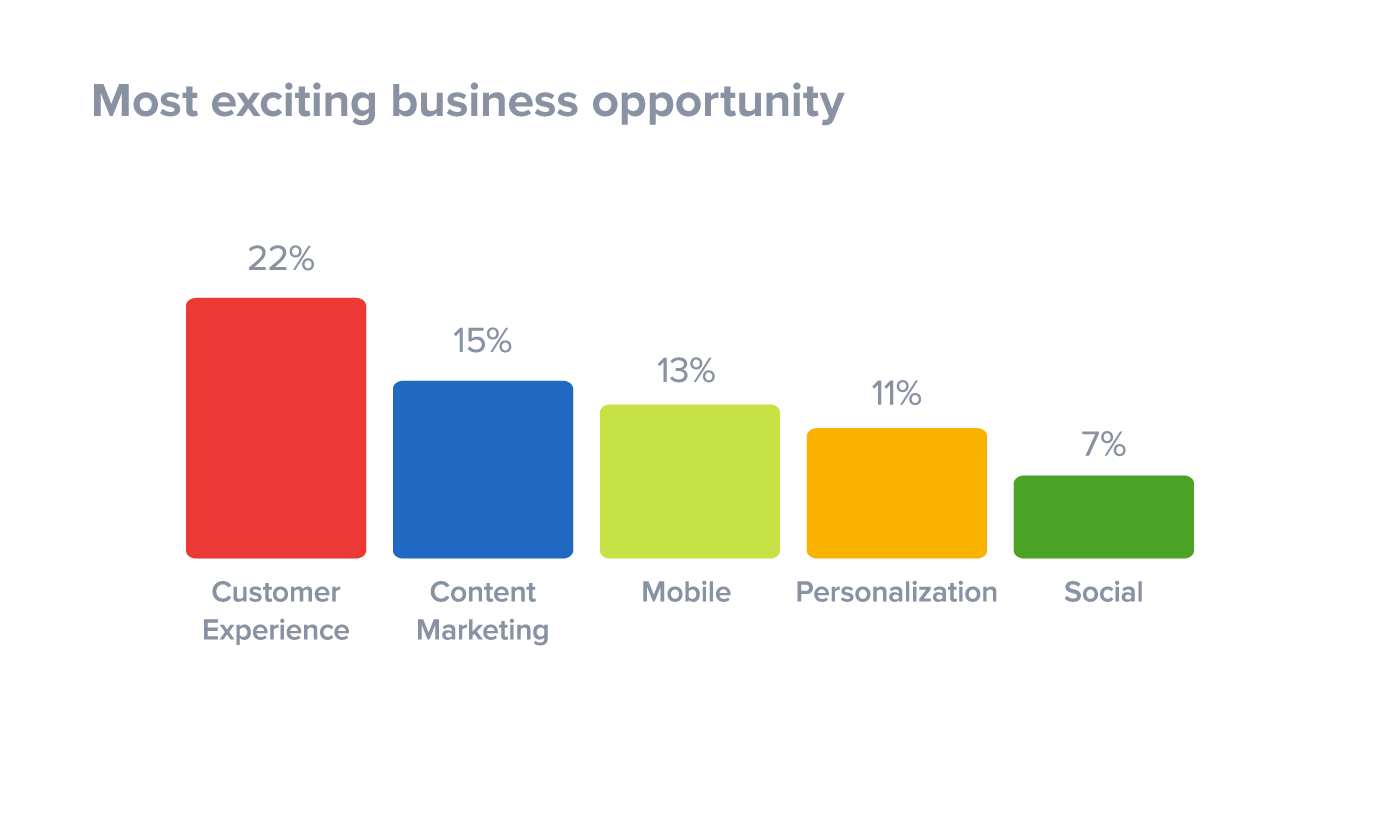 It's no surprise that customer experience is so exciting.
As according to a Walker study, by the year 2020 customer experience will overtake price and product as the key brand differentiator.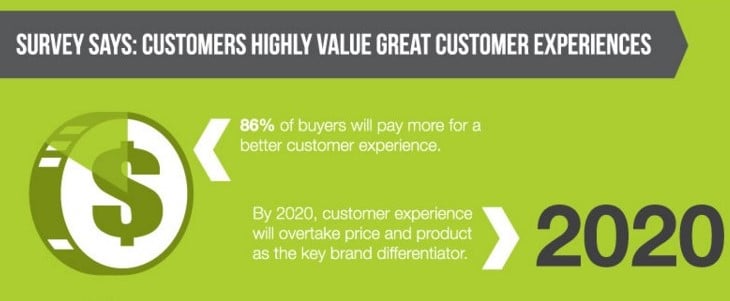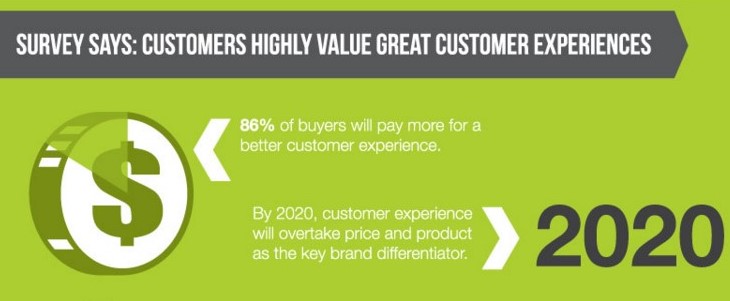 What is customer experience?
Customer experience is your customers' perception of how the company treats them. These perceptions affect their behaviors and build memories and feelings and may drive their loyalty. In other words: if they like you and continue to like you, they are going to do business with you and recommend you to the others.
And for your customers to like you, you should know them very well to create and deliver personalized experiences that will entice their loyalty. But gaining this in-depth knowledge about customers isn't something that just happens. It's about collecting a lot of customer data (i.e.Voice of Customer data) and bring out valuable insights from that data with speed and precision.
No doubt, this is well worth the effort.
It doesn't matter what kind of business you're in – improving the experience for your customers is the key to increasing retention, satisfaction and sales.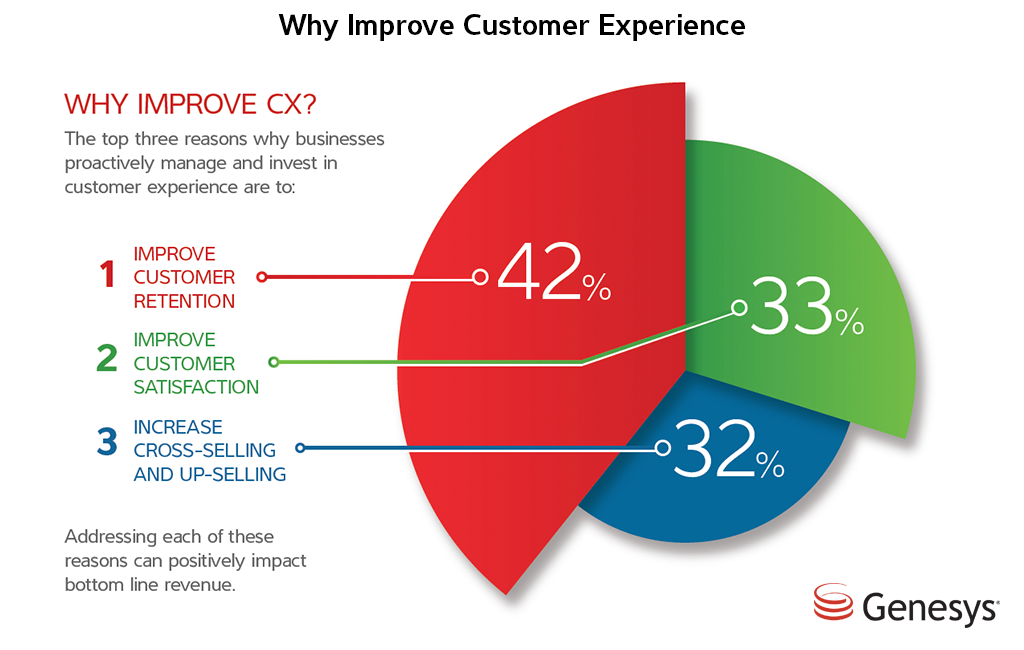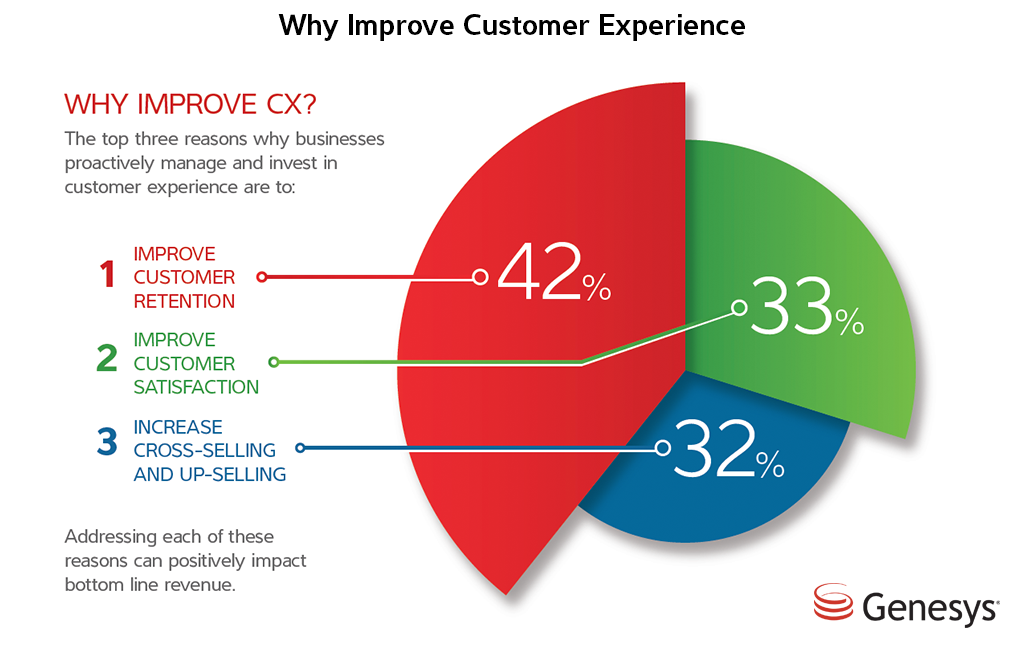 So, what has to be done for you to become a winner?
In this action-packed data-driven blog post, we will take a look at some of the most important customer experience statistics that will help you improve your business operations for the coming year.
Customer experience is the new battlefield
It's highly unlikely that you want to do business with someone who treats you poorly.
How you feel after a phone call you've made to a customer service center affects your further decisions. According to Deloitte, 62% of companies view customer experience delivered by the contact centers as a competitive differentiator.
Therefore, if you want your customers to stay loyal, you have to invest in the experience. As a result, Gartner predicts that by 2018, more than 50% of organizations will redirect their investments to customer experience innovations.
So, where should you start?
According to the Gartner survey, companies that implement customer experience projects begin by focusing on ways they collect and analyze customer feedback. This is a great starting point for meeting your customers' expectations.
The importance of multi-channel servicing will increase
Today companies interact with their customers across multiple channels – online, offline, via social media, etc.
In fact, Aberdeen Group Inc. claims that companies with the strongest omni-channel customer engagement strategies retain an average of 89% of their customers, as compared to 33% for companies with weak omni-channel strategies.
However, while customers may be positive and accept different service levels from different channels, they expect the communication to remain consistent, and that creates a real challenge.
Accenture found that 89% of customers get frustrated because they need to repeat their issues to multiple representatives. Moreover, 87% of customers think brands need to put more effort into providing a consistent experience, Kampyle claims.
As companies are expected to compete mainly on the basis of customer experience (Gartner research), it is one of the foremost tasks to ensure the consistent omni-channel communication.
In fact, according to PricewaterhouseCoopers, the demand for an omni-channel customer experience will be amplified by the need for near perfect execution, and the number of companies that invest jumps from 20% to more than 80%.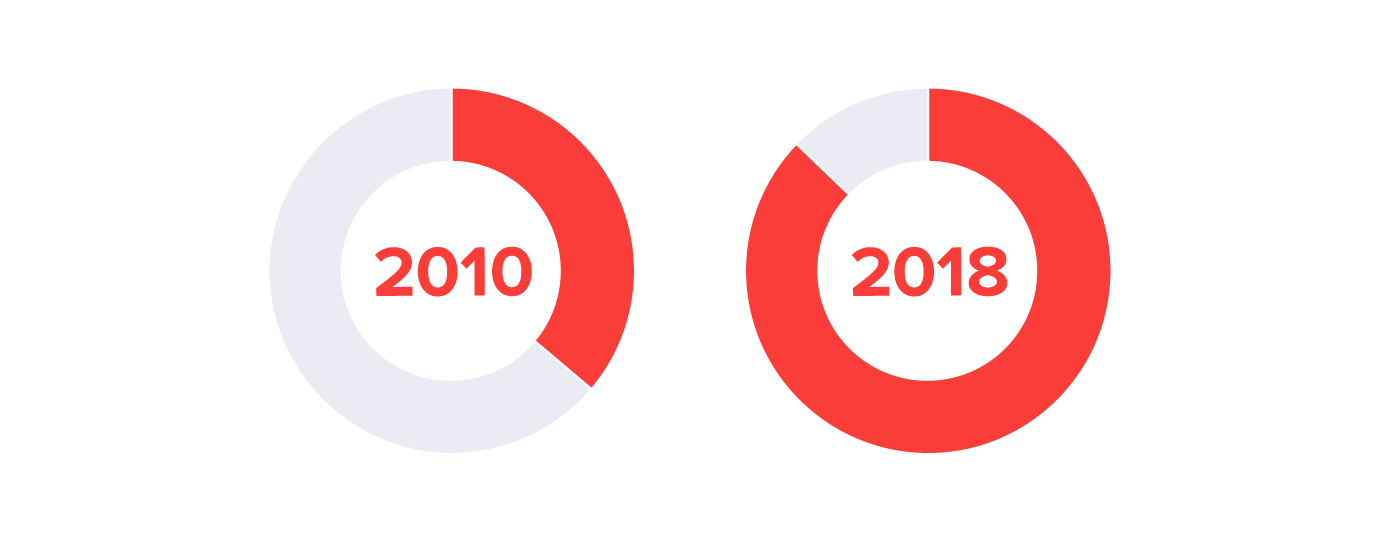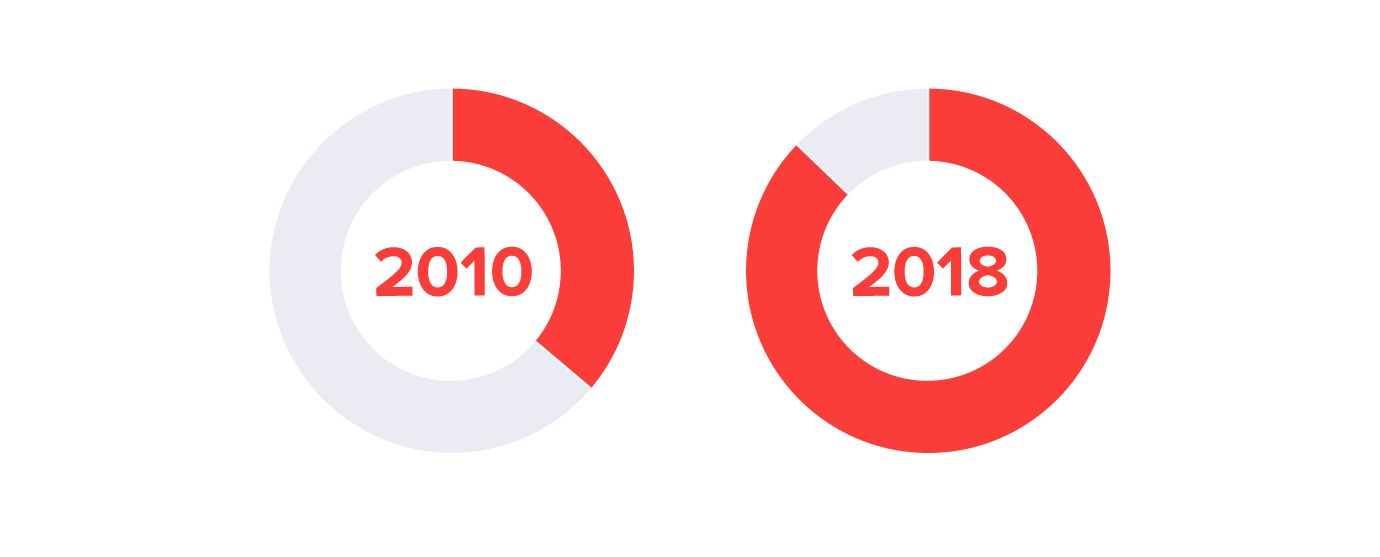 Mobile customer experience is priority
When providing experience across different channels, it seems that mobile customer service is expected to soar. Why?
Well, because a bad mobile experience can do serious damage to your brand and end up in losses in business.  According to WOW Local Marketing, 52% of customers are less likely to engage with the company because of bad mobile experience.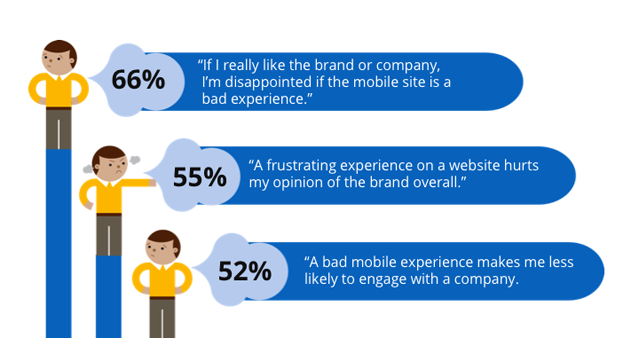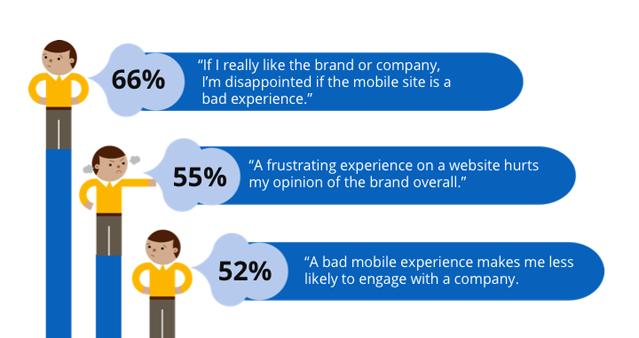 That's why 84% of companies, who claim themselves to be customer-centric focus on the mobile customer experience.
It's no longer the question whether the mobile experience is important or not. We already know it is!
By 2018 mobile search will generate 27.8 billion more queries than desktop search.
However, it seems that companies have been a bit slow to adapt, with 90% of customers saying they have had poor experience seeking customer support on mobile, according to Software advice.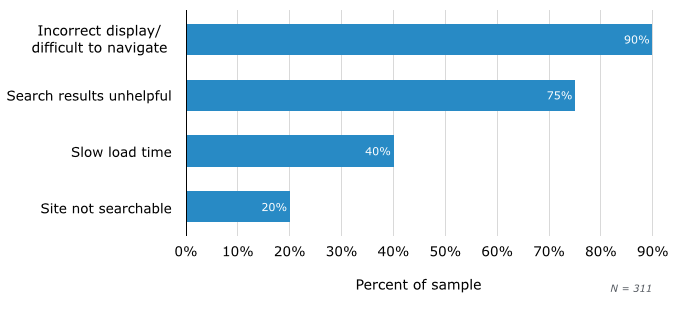 This is a gap that needs to be taken care of, as more than 65% of customers aged 18-44 use mobile to seek for service more than once a month.
Customer frustration will lead to churn
What happens if you fail to provide positive customer experience?
Simple. Customers will be frustrated.
According to Esteban Kolsky, if the customers are not satisfied, 13% of them will tell to 15 or even more people that they are unhappy. On the other hand, 72% of customers will share a positive experience with 6 or more people.
67% of customers mention bad experiences as a reason for churn, but only 1 out of 26 unhappy customers complain.
The rest, they just leave, Kolsky claims.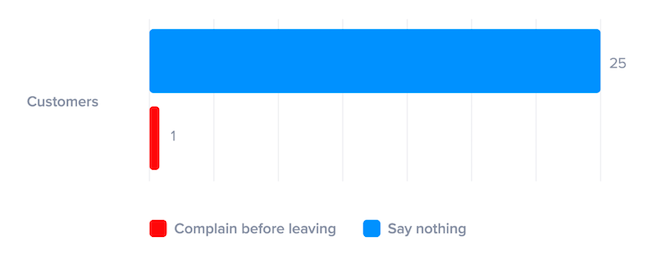 The lesson that we can learn here is that the absence of negative feedback is not a sign of satisfaction. Indifferent attitude to your customers might lead to them leaving and even worse –sharing the bad experiences with others.
Self-service help will be the first choice
In 2018 companies should ensure that customers are able to find answers to their questions using an assortment of self-service options, as 50% of customers think it's important to solve product or service issues themselves and 70% expect a company's website to include a self-service application.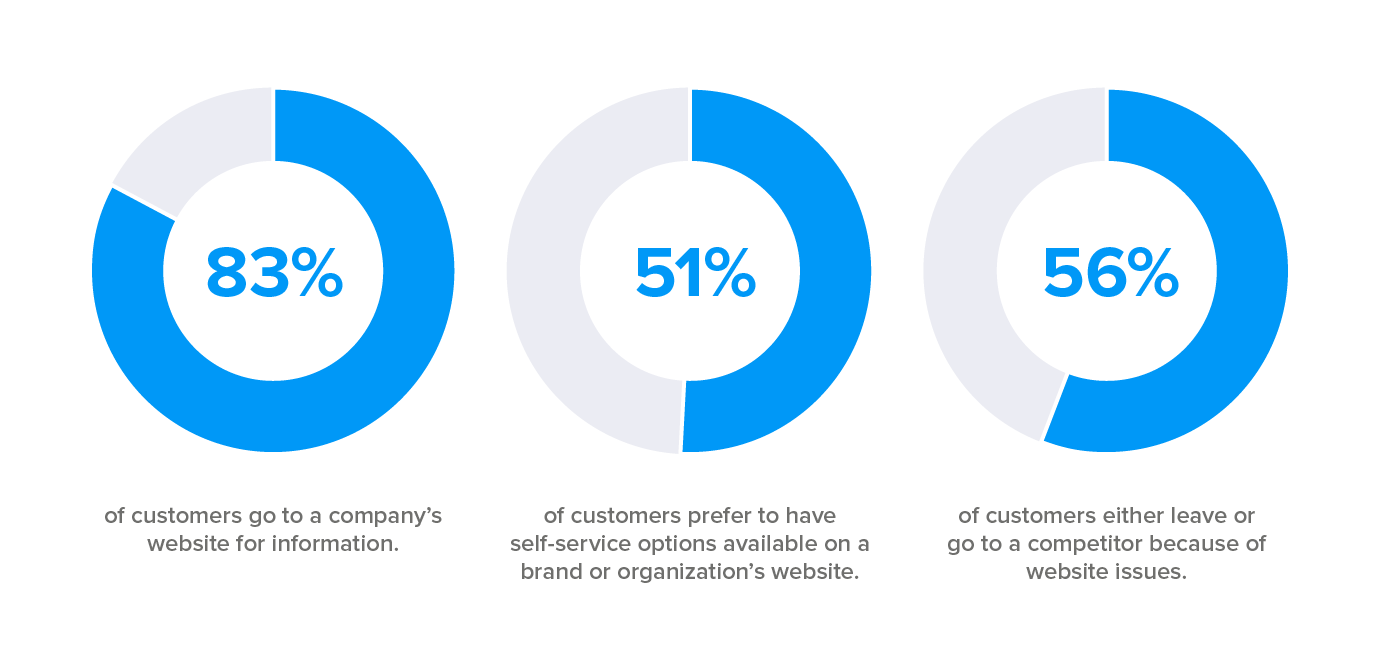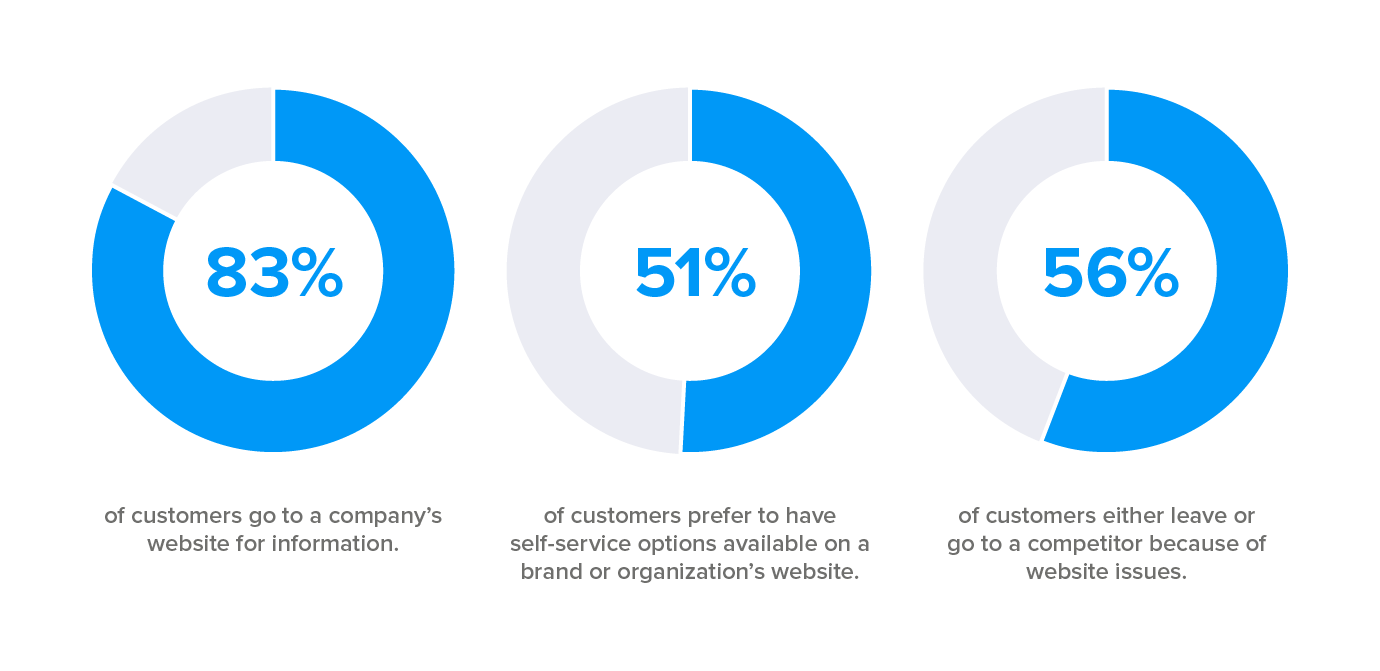 Self-service adoption will continue to increase. Gartner predicts that by 2020 a customer will manage 85% of the relationship with an enterprise without interacting with a human, so make sure to give your customers the direction and tools they need to accomplish tasks themselves.
Conclusion
Since 89% of businesses are soon expected to compete mainly on customer experience, organizations that take customer experience seriously will stand out from the noise and win loyal customers over.
One thing for sure, in order to deliver an excellent customer experience, you have to know your customers better than ever before. This means creating complete customer profiles that help you understand and measure your customers' behaviors at every touch point across multiple channels. To achieve this, you a CRM strategy.
Once you know your customers well enough, you can use that knowledge to personalize every interaction. Customers these days have more power and choice than ever before. Thus, you are responsible for understanding and acknowledging their needs.
If you make sure their interaction with your company is smooth, pleasant and continuously improving, you will drive brand loyalty. If not, you'll give your competitors the best gift – your customers.'
Today, BARE International sets the industry standard as one of the largest independent providers of customer experience research, data, and analytics for companies worldwide. BARE's customer experience research can provide you with critical data to make meaningful business decisions. Ask us how.
Read the full article at the source here. Images and infographics courtesy of Super Office, unless otherwise sourced above.
---
Customer Experience Research & Insights by BARE International
Your business challenges are unique. Our proven success across industry categories stems from asking the right questions to help you address the challenges you face everyday. Each solution we offer is customized to meet your needs, providing actionable feedback to help you make critical business decisions. We treat you the way you want to treat your own customers, providing a dedicated project team to give you the attention you deserve and an infrastructure spanning the globe to provide the resources you need to understand your customers' experiences.
Customized Research Solutions
Immediate, Actionable Feedback
Dedicated Project Team
Family-Owned, Global Capabilities
Get in touch today to receive a complimentary evaluation of your business. We look forward to working with you.
https://www.bareinternational.com/wp-content/uploads/2018/10/AdobeStock_57378337.jpeg
4688
6250
Kristen
https://www.bareinternational.com/wp-content/uploads/2023/05/BARE-ISO-Badge-2023-1.png
Kristen
2018-10-09 13:34:55
2018-10-11 16:15:24
BARE Shares – 32 Customer Experience Statistics You Need to Know