BARE Shares – 2018 Memorial Day Facts

As we come upon a long weekend in the United States that is often synonymous with barbeques and retail sales, we at BARE remember and celebrate the service men and women who fought and continue to serve for our country. Our deepest gratitude for the ultimate sacrifice of our fallen heroes. BARE International shares an article and infographic from John S Kiernan of WalletHub on 2018 Memorial Day Facts.

'Memorial Day is more than just a day off from work or school, an excellent occasion for a backyard barbeque or a chance to travel. Those things do speak to the holiday's true spirit. But above all else, Memorial Day honors Americans who have died in service to their country. This holiday is not one for somber reflection, however. We instead choose to celebrate by enjoying the many freedoms that American servicemen and women have perished protecting.
That includes fundamental rights such as freedom of speech, trial by jury, and protection against cruel and unusual punishment. It also extends to relative trivialities such as the ability to save up to 90% with Memorial Day weekend sales or ride roaring Harleys through the nation's capital. And yes, 60% of us do indeed barbeque each Memorial Day weekend, while 13% take a trip. After all, Memorial Day's place on the calendar has made it the unofficial start of summer for many.'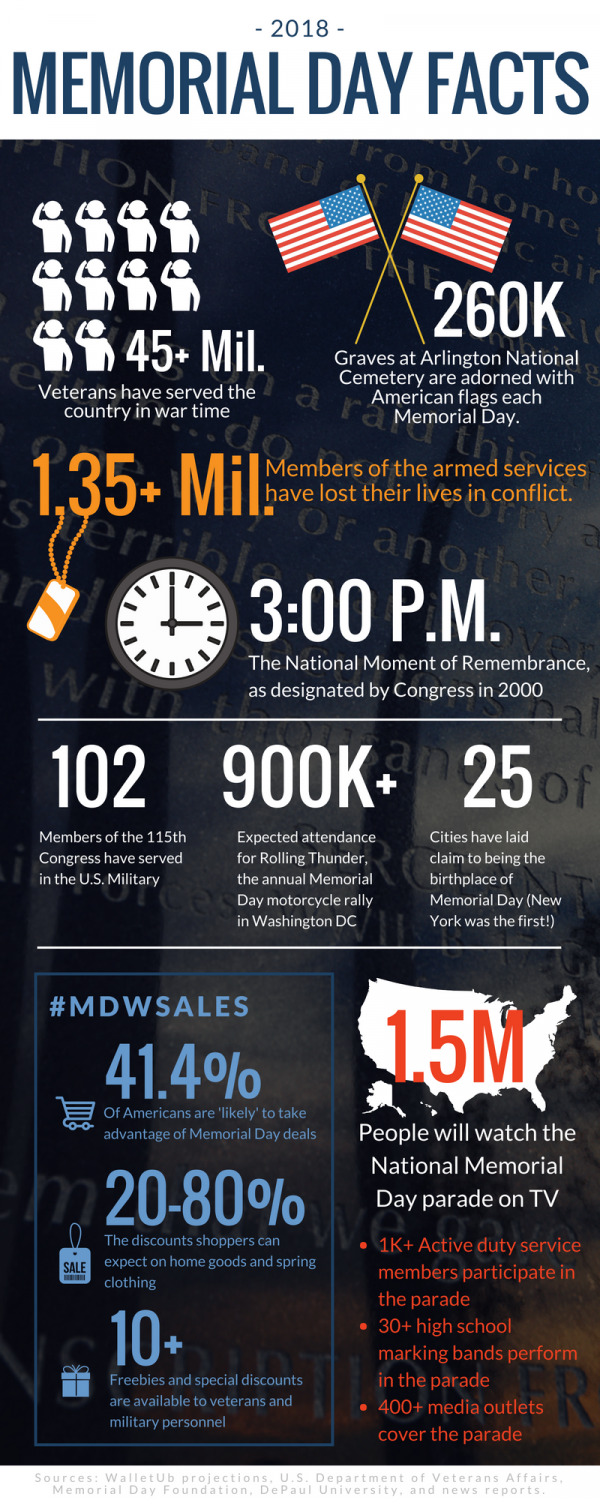 Read the full article and view the original infographic at the source here.
---
Mystery Customer Research by BARE International
Your business challenges are unique. Our proven success across industry categories stems from asking the right questions to help you address the challenges you face everyday. Each solution we offer is customized to meet your needs, providing actionable feedback to help you make critical business decisions. We treat you the way you want to treat your own customers, providing a dedicated project team to give you the attention you deserve and an infrastructure spanning the globe to provide the resources you need to understand your customers' experiences.
Customized Research Solutions
Immediate, Actionable Feedback
Dedicated Project Team
Family-Owned, Global Capabilities
Get in touch today to receive a complimentary evaluation of your business. We look forward to working with you.
https://www.bareinternational.com/wp-content/uploads/2018/05/american-flag-flag-flower-1093645.jpg
3648
5472
Kristen
https://www.bareinternational.com/wp-content/uploads/2023/05/BARE-ISO-Badge-2023-1.png
Kristen
2018-05-25 15:01:35
2018-05-25 15:01:35
BARE Shares – 2018 Memorial Day Facts