BARE International, the most trusted name in customer experience research brings you this week's BARE Fact: Black Friday Edition
'America's big 'holiday' is right around the corner: Black Friday! For many Americans, Black Friday represents savings galore, for others, it's a day to frantically avoid. Whether you are a fan of Black Friday or not, these facts may surprise you!' BARE shares some interesting Black Friday Facts compiled by Farm Bureau Financial Services*.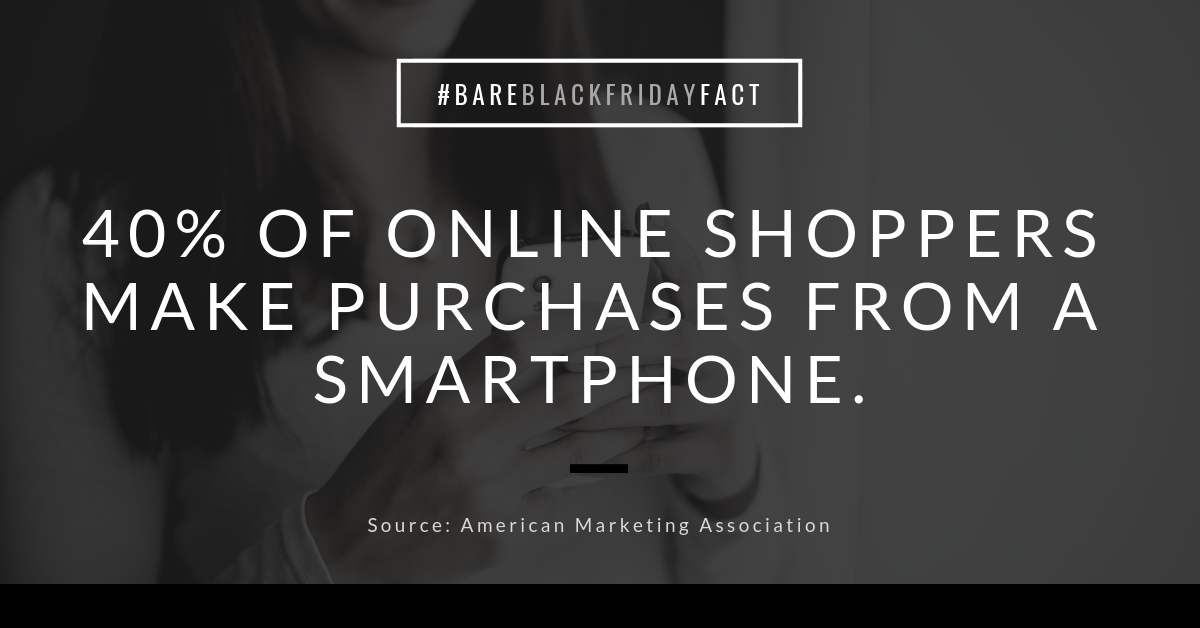 The Average Black Friday Plans to Spend $472
How much do you spend while out on Black Friday? For many, this is the biggest shopping day of the year. No matter what type of shopper you are – the average shopper is expected to spend $472 on that day.
Shopping at Brick and Mortar Stores is Declining
In-store shopping on Black Friday in 2017 decreased 1 percent from 2016, according to Forbes. As online shopping and Cyber Monday continues to grow in popularity, this could be trend that we see in years to come.
Store Credit Card Applications Increase Around Black Friday
Many stores offer same-day discounts at sign-up, according to a survey by CreditCards.com. For some, offers of added discounts are too much to pass up. The most popular time for store credit card sign-ups is during the holidays, according to the Business Insider.
Nearly Half of Thanksgiving Weekend Shoppers Plan to Spend More
This year, 46 percent of Thanksgiving weekend shoppers plan to spend more than they did the previous year.
Online Sales Hit $5.03 Billion
More and more people are choosing to shop online during Black Friday. In 2017, Black Friday online sales reached $5.03 billion, a 16.9 percent increase from 2016.
Black Friday Boasts Best Deals on Electronics
If a new television or tablet is on your wish list this year, you may want to check out the Black Friday deals. Adobe's recent predictions for the 2018 holiday season, anticipates Black Friday will have the best discounts on electronic favorites like tablets, televisions and computers.
40% of Online Shoppers Make Purchases from a Smartphone
On Black Friday consumers are using smartphones more and more to make purchases. In 2017, a record 40 percent of online sales were made on mobile phones, which was an 11 percent increase from 2016.'
Today, BARE International sets the industry standard as one of the largest independent providers of customer experience research, data, and analytics for companies worldwide. BARE's customer experience research can provide you with critical data to make meaningful business decisions. Ask us how.
Read the full article at the source, including all fact sources, here
* BARE International is not an affiliate or partner of Farm Bureau Financial Services.
---
Customer Experience Research & Insights by BARE International
Your business challenges are unique. Our proven success across industry categories stems from asking the right questions to help you address the challenges you face everyday. Each solution we offer is customized to meet your needs, providing actionable feedback to help you make critical business decisions. We treat you the way you want to treat your own customers, providing a dedicated project team to give you the attention you deserve and an infrastructure spanning the globe to provide the resources you need to understand your customers' experiences.
Customized Research Solutions
Immediate, Actionable Feedback
Dedicated Project Team
Family-Owned, Global Capabilities
Get in touch today to receive a complimentary evaluation of your business. We look forward to working with you.
https://www.bareinternational.com/wp-content/uploads/2018/11/Copy-of-BARE-Fact-header.png
200
600
Kristen
https://www.bareinternational.com/wp-content/uploads/2023/05/BARE-ISO-Badge-2023-1.png
Kristen
2018-11-23 13:12:17
2018-11-23 13:12:17
BARE International, the most trusted name in customer experience research brings you this week's BARE Fact: Black Friday Edition