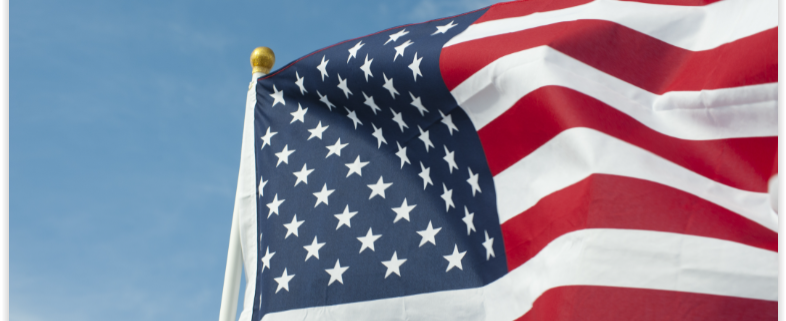 Look out for the red, white, & blue today honoring Flag Day – commemorating the adoption of the flag of the United States of America in 1777.
There are other flags you should be watching out for in the workplace, and we're not talking stars and stripes… Here BARE International shares an article by Brittney Lightfoot for Customer Think on 'Recognizing Red Flags When Dealing with a Customer'.
'As a company, it is important to decide where to draw the line with customers. Not everyone has the luxury of being selective of customers, but there are some cases where that bad customer will only cause you to lose money and time. As easy as it is to say the "customer is always right", sacrificing your employees' self-esteem to satisfy customers that may never be satisfied can damage your company culture. Instead be honest. Don't waste your customer's time and don't waste your own time (and personal health) dealing with a client relationship that is doomed for disaster.
There are several signs or red flags that will appear at some point during your interactions with clients. Some of them are apparent from the start, while others may be triggered later on. Here are a few below that commonly appear:
Rude behavior
There is a difference between being rude and being abrasive or straightforward. If an unprovoked customers from the beginning is quick to interrupt you, has inappropriate behavior, personally attacks you, or insults your company then consider walking away, especially if your service requires a long-term relationship. Think about how a working relationship with that customer would be or how they would interact with other employees. Also take into consideration if your other colleagues have complaints about that same customer as well.
Lack of communication or constant broken commitments
We've all seen this happen. Initial communication goes well with a customer and you both set aside time for a meeting at a later date. Then that day comes and goes and you don't hear back from the customers until several days or even weeks later (if you hear back at all) apologizing and asking to reschedule. Do you reschedule? Yes but clarify to that customer your expectations on cancellations and communication. While this may be a one-time event, it could also been an early indicator that this customer is unreliable.
Are you constantly waiting for verification from your customer? Is a sale that they told you would happen weeks ago constantly being postponed? Be clear to your customers on your policies on communications. Don't rely on a sale from a less than reliable customer. Don't be afraid to voice that their lack of communication is troubling and that a change needs to be made.
Reaction to unexpected events
How your customers deal with problems is important. Miscommunication, malfunctions, and accidents happen. If your client's first reaction is to point their finger at you and curse you and your company then there's a problem. If a small issue is escalated to an extreme one due to their overreaction then there's a problem. This client is going to cause stress and cost you money, especially if there are repeated incidents. Take the time to explain to customers what the procedure will be if a problem should occur. If their behavior is an ongoing problem whenever something unexpected occurs, whether it is their mistake or your mistake, then it might be time to walk away.
Refusal to listen or read provided information
When dealing with a customer part of your job is to educate them. Answering questions that may seem obvious to you or educating a customer who may be behind on the times can be expected. Some customers will require more aid than others. Watch for signs that they simply aren't being receptive to what you are saying or reading the materials that you have provided. Are they repeatedly asking you the same questions? Trying to do things with your product or project that you specifically said would not work? These clients are hard to deal with because they'll be angry and blame you for not meeting their expectations, despite the fact that you explained and provided them with all the materials needed to understand what you are selling. If you cannot reconcile the differences between what they want and what you or your product can actually do then it's time to walk away.
Unrealistic expectations
While it can be tied to the above red flag, there may be other reasons behind this customer thought. Some customers needs a product or project within a certain amount of time and sometimes that time frame simply isn't possible. Some customers expect results far beyond what you told them would happen. Some customers think that their schedule is a priority over your own schedule and personal needs. These customers will expect you to go above and beyond for them, regardless of other commitments. This often means you doing more without additional compensation.
Conclusion
These are some of the common red flags that people deal with. However before you think about letting go of a customer step back and look at your own procedures. Are these problem customers outliers or are you encountering a good number of customers with unrealistic expectations or issues understanding what you are selling? If your answer is the latter then it's time to reflect on your materials and what you've advertised. Educating your customers is extremely important. Part of your job is to help them make the right decision, not just choose your products or services by any means necessary. Otherwise judge by a case by case basis on how much you are willing to handle with a client.
Last of all, continue to maintain a professional tone when declining a customer. No matter how badly encounters with that customer went, cleanly end the relationship. Give them their money back, refer them to another company; the goal is give them very little reason to hold a grudge against you and your company.
Now that you've seen some common red flags, what are other signs that you've notice that later lead to a bad experience with a customer?'
https://www.bareinternational.com/wp-content/uploads/2017/06/Screen-Shot-05-25-17-at-12.40-PM.png
522
786
onimod
https://www.bareinternational.com/wp-content/uploads/2022/07/BARE-Logo-WP-2022.png
onimod
2017-06-14 15:12:05
2017-06-14 15:12:05
Happy Flag Day!