For the Love of Restaurants

'Tis the season of love… and many choose to impress that special someone with a romantic dinner on February 14. Valentine's Day is reportedly the second-busiest day for restaurants in America, next to Mother's Day: In 2015, Americans spent about $7 million at restaurants. And the average cost of eating out this year will be anywhere between $87 to $287 per couple!
High expectations come along with a pricier meal, but what do people mostly complain about? Dirty tables, utensils, or restrooms at restaurants are among the top gripes of people when they are dining out, according to our exclusive national survey, even more so than complaints about food. The numbers below are the percentage of people highly annoyed with a specific gripe from the survey of 1,003 adults by the Consumer Reports National Research Center…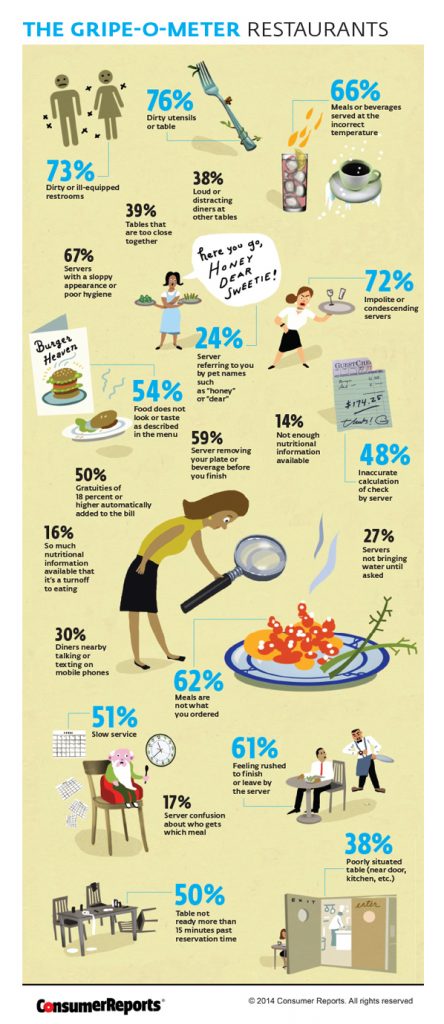 How can BARE International help YOUR restaurant avoid these damaging errors and complaints?
From fast food to gourmet fine dining establishments, BARE customer feedback programs, like our mystery guest visits can identify the key drivers at your establishment that are encouraging customer satisfaction and revisit intent. We will customize the following services to develop innovative solutions for you:
– Mystery Guest Visits
– Restaurant and bar integrity audits
– Phone Calls to Measure Reservation and Menu Knowledge
– Facility Audits to Assess Appearance and Cleanliness
– Guest Satisfaction Surveys: In person, by phone, email or on the web
Actionable program feedback gives management teams critical areas on which to focus to improve your organization's overall performance. This in turn will allow your organization to provide clear expectations and achievement goals that will drive employee engagement.
To solidify ourselves as established global leaders in the Restaurant Customer Experience Measurement industry, we have performed over 100,000 visits worldwide in over 150 countries and 25 languages. What's more we have an incredible 99.2% client satisfaction rate.
Don't risk unhappy customers and bad reviews this Valentine's Day. Let BARE International support your business by providing a complimentary consultation today.
https://www.bareinternational.com/wp-content/uploads/2017/02/AdobeStock_40362931.jpeg
3744
5616
onimod
https://www.bareinternational.com/wp-content/uploads/2022/07/BARE-Logo-WP-2022.png
onimod
2017-02-06 21:07:28
2017-03-20 22:35:24
For the Love of Restaurants