Bare International Selects Papa John's Pizza for First Annual Client Choice Award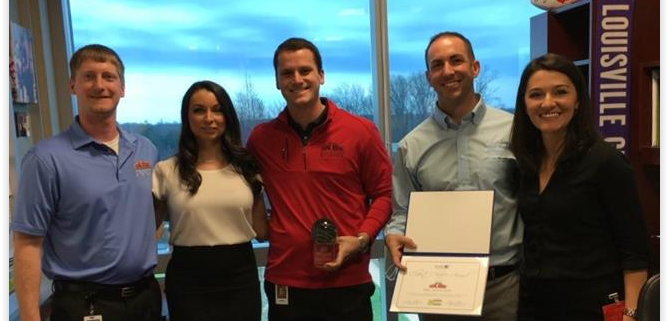 Papa John's Pizza is the recipient of the first annual BARE International Client Choice Award. In 2017 BARE International celebrates its 30th anniversary of supporting businesses worldwide in creating excellent customer experiences.
The BARE International Client Choice Award recognizes clients who are leaders in their industry. One of the criteria for the award is a company's dedication to providing superior customer service and making a difference with their teams, product, and most of all, the community. BARE International recognizes Papa John's commitment to excellence and is honored to help them measure and sustain customer and brand loyalty.
Alicia Myers, Director of Operations and Maria Chacon, International Account Manager presented the 2017 BARE International Client Choice Award at Papa John's corporate headquarters in Louisville, KY on March 27, 2017.
BARE International prides itself on establishing client relationships that last. This is our way of saying, "Thank you! We appreciate you and our partnership," says Myers. "Our 30th anniversary year is the perfect time to start this new tradition of recognizing excellence," states BARE Vice President Guy Caron.
(Main article photo: Alicia Myers and Maria Chacon of BARE International present the first annual Client Choice Award to Royce Lurie, Jordan Marr, and Jason Wade from Papa John's Pizza, pictured left to right.)
https://www.bareinternational.com/wp-content/uploads/2017/04/Screen-Shot-04-20-17-at-11.50-AM.png
379
668
onimod
https://www.bareinternational.com/wp-content/uploads/2022/07/BARE-Logo-WP-2022.png
onimod
2017-04-20 12:53:20
2017-04-20 12:53:20
Bare International Selects Papa John's Pizza for First Annual Client Choice Award