BARE International Solutions.
CHECKERS RALLY'S Quality and Guest Experience Research Program
BARE evaluators provide invaluable information for use by your management team when measuring employee knowledge and performance. Information obtained can be used to successfully trouble-shoot problem areas, improve and revamp training methodologies and to positively reinforce star employees in your organization with reward/incentive programs. BARE's programs are designed to test your established policies, procedures, and training, linking their outcome directly to your bottom line.

Your corporate team has developed a program that will allow you to gather intel to make improvements! Choose between a variety of programs: monthly, bi-monthly or quarterly. You select the plan that works best for you.
Key Measurement Sections Include
How BARE works with CHECKERS/RALLY'S
Project Management
Once you contract with BARE you can rest assured that the team will work in conjunction with Senior Management to consistently review the progression of your project, reviewing project planning, evaluator selection, process management, evaluator educational briefing formats, guidelines, data verification, data input, report generation and follow up.
Quality Control
Reports will be accurate and consistently scored. BARE has a dedicated Data Quality Manager who oversees the training, standards, and methodologies of the quality control process and data validation.  A team of industry-specific educated Data Quality Managers conduct an in-depth review of all reports.  Data Quality teams are educated to BARE, industry, and client specific standards.  They are re-certified on a yearly basis and have "spot check reviews" on a regular basis.
Customized Reporting, Analytics & Dashboards
Data from BARE's Customer Experience Research is available for immediate access through a customized dashboard within APOLLO, our state-of-the-art web based report delivery system.
Customize your reports, review detailed data analysis, and access company statistics how you want, when you want.
Want results right to your fingertips?
BARE's advanced personal reporting system is available to all of our clients at no additional cost, and is compatible for all iOS and Android smartphones!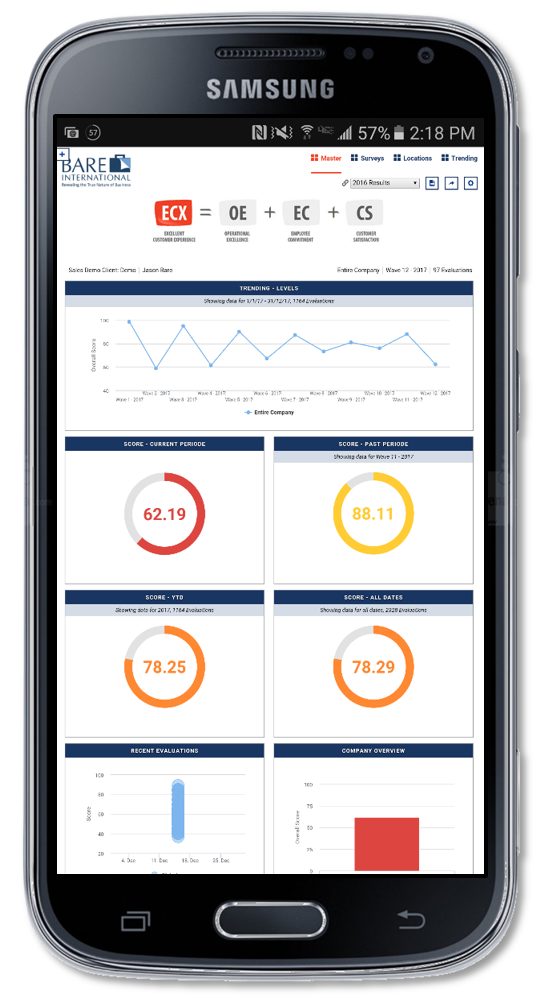 APOLLO is also equipped with a Hierarchical Reporting structure, allowing BARE to tailor fit the visibility of results and reporting features by any key performance indicator based on the management hierarchy you provide.
Additionally, BARE can deliver rapid-fire business intelligence analytics that includes: results summaries, detailed analysis, and key recommendations.